6 Must-Have Furniture Pieces for Your House Decoration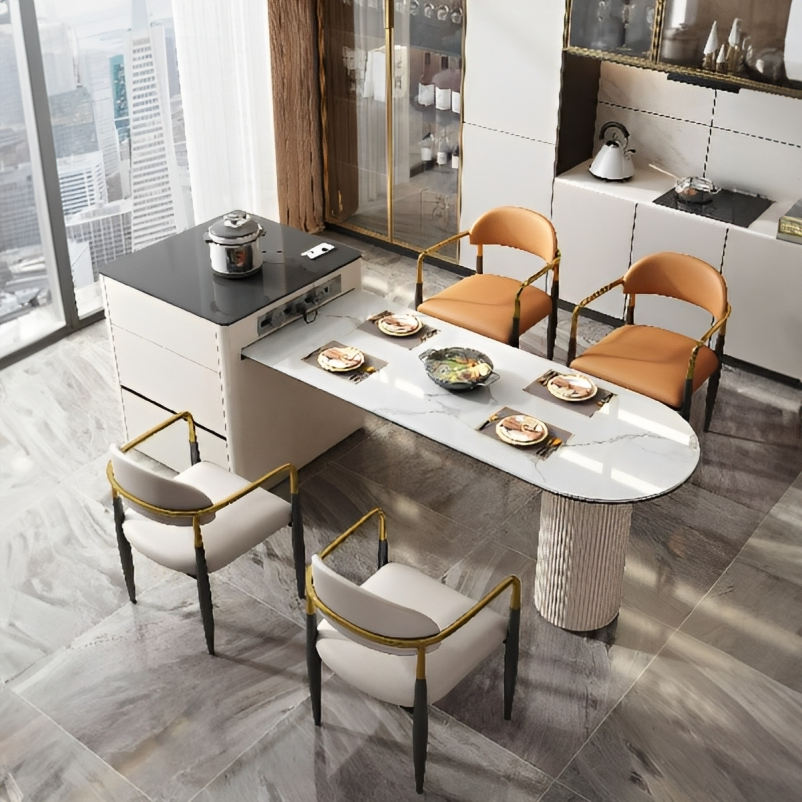 Introduction
 When it comes to decorating your home, selecting the right furniture pieces is essential to creating a space that reflects your style and meets your functional needs. In this article, we'll explore six must-have furniture pieces that can elevate the aesthetics and functionality of your house decor. From the heart of the home, the kitchen, to the cozy living room and productive home office, these furniture items will enhance every corner of your living space. Let's delve into each category and discover how they can transform your home.
The Versatile Kitchen Island: A Focal Point for Your Kitchen, kitchen island
When it comes to the aesthetics of your kitchen island, let your personal style shine through. The use of high-quality materials, such as natural stone or quartz for the countertop, can elevate the elegance of your kitchen while ensuring durability for everyday use. Combine these materials with a complementary base, such as a beautifully crafted wood or metal structure, to create a cohesive and visually captivating island design.
The addition of open shelves to your kitchen island introduces a sense of openness and breathability to the space. Embrace the opportunity to showcase decorative items that reflect your personality, such as heirloom ceramics, artful kitchen tools, or fresh potted herbs. Not only do these displays add a touch of elegance and individuality to your kitchen, but they also infuse it with warmth and character.
 Moreover, a kitchen island with open shelves encourages a more organized and accessible kitchen. Imagine having your favorite cookbooks readily displayed, offering inspiration and guidance for your culinary creations. Essential kitchenware and frequently used items can be conveniently stored within arm's reach, streamlining your cooking process and reducing unnecessary trips across the kitchen.
Sofa Sets: Creating a Cozy and Inviting Living Room
 The living room is where you unwind and entertain, and a comfortable sofa set can transform this space into a cozy retreat. When selecting a sofa, consider the ideal size and shape that fit your living room layout. Upholstery fabrics are crucial to balancing style and practicality, especially if you have kids or pets.
 A sectional sofa provides ample seating and creates a sense of intimacy, making it perfect for hosting gatherings or family movie nights. Adding accent pillows and throws can introduce pops of color and texture, elevating the overall coziness of your living room.
Bed Frames and Mattresses: Designing Your Dream Bedroom
 Your bedroom is your sanctuary for rest and relaxation, and the right bed frame and mattress are crucial for a good night's sleep. Explore different bed frame styles that align with your preferred bedroom theme and ensure you have enough storage options if needed.
 A platform bed with built-in drawers offers an excellent storage solution for a clutter-free bedroom, allowing you to store extra linens or seasonal clothing conveniently.
Coffee Tables and Side Tables: Elevating Your Living Room Décor
 Coffee tables and side tables are functional and decorative elements that tie the living room together. Consider coffee table designs that complement your seating arrangements and match the overall decor theme of your living room.
A coffee table with a glass top can give the illusion of spaciousness and showcase a beautiful area rug underneath, adding an extra layer of elegance to your living room decor.
Desks and Office Chairs: Creating a Productive Home Office
 With the rise of remote work, a well-designed home office is essential for productivity. Ergonomic office chairs are crucial to ensuring comfort and support during long working hours. Choose a desk that fits your work needs and complements your home office decor.
 An adjustable standing desk can help alleviate the strain of sitting for prolonged periods and promote better posture and focus during work.
 TV Stands and Entertainment Centers: Organizing Your Media
 An organized media area enhances your living room decor and creates a clutter-free space. When selecting a TV stand or entertainment center, consider the size of your television and the storage space needed for media equipment and accessories.
 A wall-mounted entertainment center provides a sleek and modern look while also freeing up floor space, making it ideal for smaller living rooms.
Unlock Your Dream Home with DPhome!
After exploring the six must-have furniture pieces for your house decoration, you're now one step closer to transforming your home into a stylish and functional haven. At DPhome, we offer more than just high-quality products; we provide expert guidance every step of the way.
By choosing DPhome's products, you gain access to not only top-notch furniture but also comprehensive support from our team of professionals. From helping you select the perfect pieces to assisting with the ordering process, delivery, installation, and usage, we offer a seamless and all-encompassing service.
Our commitment to excellence means we tailor our recommendations to your unique preferences and lifestyle, ensuring that every furniture item seamlessly complements your overall house decoration.
With DPhome, your home will not only exude style and comfort but also be designed for optimal usability. Embrace the latest trends from the Decorator Show House 2023 and let our furniture pieces bring your personal style and taste to life.
Discover the endless possibilities and embark on your journey to a beautiful and functional home with DPhome today! Our team is here to assist you in every way, ensuring your home becomes a true reflection of your individuality. Choose DPhome for your dream home transformation, and let us make your vision a reality!


FAQs
What are the six must-have furniture pieces for home decoration according to DPhome?
Answer: The six must-have furniture pieces for home decoration, according to DPhome, include a versatile kitchen island, a cozy sofa set, a comfortable bed frame and mattress, functional coffee and side tables, an ergonomic desk and office chair, and a modern TV stand or entertainment center.

How can DPhome support customers during their home decoration journey?
Answer: DPhome provides comprehensive support throughout the home decoration journey. This includes helping customers select the perfect furniture pieces, assisting with the ordering process, delivery, and installation. Furthermore, DPhome tailors its recommendations to each customer's unique preferences and lifestyle, ensuring that each piece of furniture complements the overall house decoration.

How can a kitchen island contribute to the organization and aesthetics of my kitchen?
Answer: A kitchen island can significantly contribute to both the organization and aesthetics of your kitchen. Apart from serving as a focal point, it provides additional storage space and surface area. The use of high-quality materials like natural stone or quartz for the countertop can enhance the overall look of the kitchen. Additionally, adding open shelves to your kitchen island can create a sense of openness, provide a place to display decorative items, and store essential kitchenware for easy access, thus streamlining your cooking process.