10 Ways to Style Your Round Coffee Table for Maximum Impact: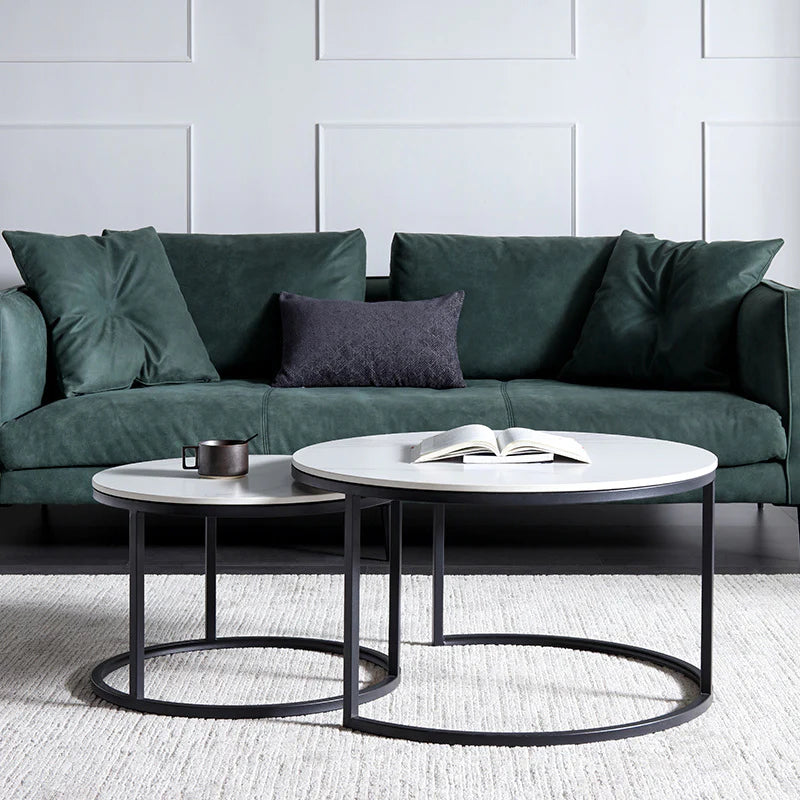 Round coffee tables are commonplace in many houses and add both flair and functionality to any living space. They provide a useful surface for food and drink as well as a flexible platform for exhibiting ornamental items. Nonetheless, many homeowners find it difficult to style a round coffee table. Ten styling options for circular coffee tables are provided in this blog post for maximum impact.
Create a Focal Point with a Tray
Using a tray is among the simplest strategies to decorate a round coffee table. A tray can help create a unified design by organizing and unifying the objects on your coffee table. Set a tray in the middle of your coffee table so that it blends in with your décor. To create a focal point, place a vase of flowers or a stack of books on top of the tray.
Add Height with a Sculpture
Your round coffee table's height can aid to provide visual interest. This may be done quite effectively with a sculpture. Put a sculpture in the middle of your coffee table that expresses your sense of style. Smaller ornaments, such as candles or a colorful bowl, should be used to frame it.
Use Books to Create a Stack
Your rectangular coffee table can gain height and visual appeal by having books stacked on top of it. Choose books that align with your interests or style. Put the stack in the middle of your coffee table, and then use smaller decorative objects like a candle or a vase of flowers to frame it.
Create a Coastal Vibe with Shells

Use shells to decorate your round coffee table if you want to give your living space a beach feel. Put a few larger shells in the middle of your coffee table and place smaller decorative objects all around them, such a candle with a seaside aroma or a vase of beach grass.
Add Texture with a Decorative Bowl

Your round coffee table would benefit greatly from the addition of a colorful bowl. Fill a bowl with decorative materials, such as ornate spheres or organic items like stones or driftwood, that go well with your design.
Go Green with Plants
Your round coffee table can benefit from the vitality and colour that plants can bring. Choose easy-to-care-for plants that can survive in low light, such ferns or succulents. On your coffee table, put them in attractive planters.
Use Candles for a Cozy Atmosphere
Candles may make your living room feel cozy and warm. On your round coffee table, arrange candles in your favorite smell. To make a visually appealing exhibit, combine various sizes and heights.
Create a Vintage Look with Antiques
If you adore antiques, consider using them to style your circular coffee table. Choose a few things on your coffee table that you feel best represent your individual style. To make a visually appealing display, combine several styles and eras.
Use Mirrors to Add Light
Mirrors can help reflect light and make your living area feel lighter. Place a couple compact mirrors on your rounded coffee table. To make a visually appealing exhibit, combine various forms and sizes.
Keep it Simple with a Minimalist Approach
Maintain a straightforward decorating scheme for your circular coffee table if you favor a more minimalist look. Put one or two decorative objects, like a flower vase or a miniature sculpture, in the middle of your coffee table. This will produce a streamlined, tidy appearance.
Conclusion
It is possible to style your round coffee table. You may make a display that expresses your style and is visually stimulating by following these 10 suggestions. There are countless ways to style your round coffee table for maximum impact, whether you favor a coastal vibe, vintage look, or minimalist approach.