How to Clean and Maintain Your Dining Table for Longevity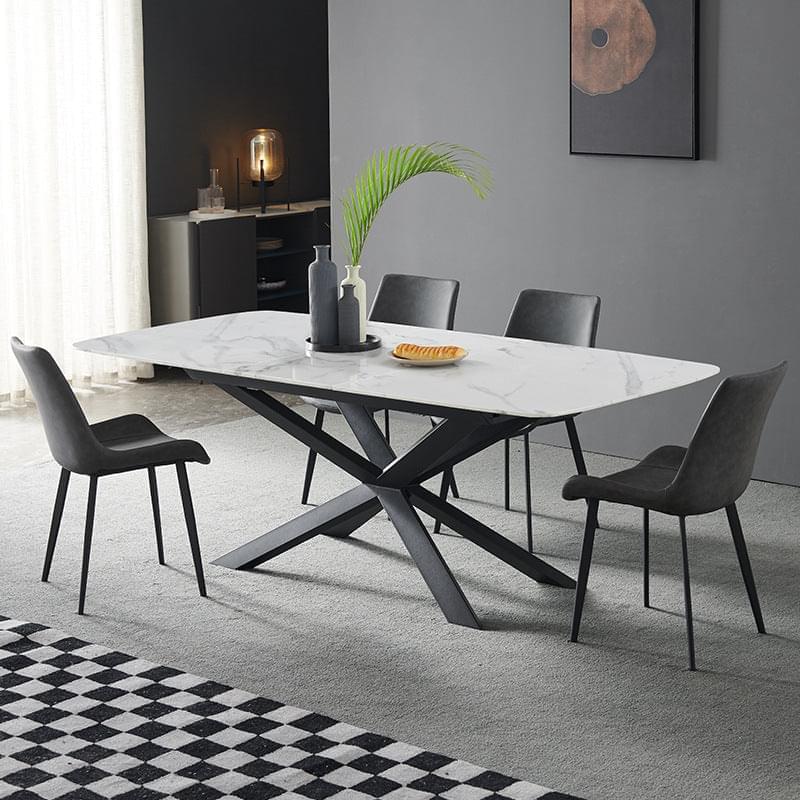 Any dining room's focal point is the dining table. We create memories, talk, and share meals there with our loved ones and friends. The surface of a dining table can be damaged by spills, stains, and scratches, which can reduce its longevity. To ensure the longevity of your dining table, it is crucial to routinely clean and maintain it. We'll provide some advice on how to care for your dining table in this blog post so it lasts a long time.
Choose the right materials
It's crucial to take the materials into account when buying a dining table. A long-lasting extendable dining table may resist heavy use and be used frequently if it is made of sturdy materials like oak or tempered glass. Natural materials, such as Sintered Stone, wood, bamboo, or rattan, have a timeless charm and are simple to clean and preserve.
Use coasters and placemats
Use coasters and placemats to shield your dining table from nicks, stains, and water splatters. For the sake of protecting your dining table's surface from spills and stains, lay a coaster under each glass and a placemat beneath each plate. To add style and shield your dining table from dents and spills, you can also use a tablecloth or a table runner.
Clean spills immediately
Spills can happen at any dining table because accidents do happen. Spills should be cleaned up every once to avoid having them soak into the surface of your dining table and leaving stains. Blot the spill with a soft cloth or paper towel, then wipe the area with a moist cloth. Avoid cleaning your dining table with harsh chemicals or abrasive cleaners that could scratch the surface.
Dust and clean regularly
Your dining table's surface may become covered with dust and grime, giving it a drab and unclean appearance. Dust your dining table frequently with a soft cloth or a feather duster to keep it looking its best. You may also clean the surface of your dining table by wiping it down with a moist towel to get rid of any dirt or grime. The surface of your dining table may stretch or shatter if you use too much water.
Polish and wax
Your dining table should be routinely polished and waxed to preserve the finish and restore its brightness. To get rid of any filth and provide a layer of protection, use a furniture polish made specifically for the material of your dining table. To add gloss and shield the surface of your dining table from scuffs and spills, you may also use furniture wax.
Store table leaves properly
If you have an extendable dining table, it's crucial to store the table leaves safely when not in use. The surface of your dining table can be scratched and damaged if you lean it against a wall or stack the chairs on top of one another. To avoid any damage, instead, keep them flat in a cover or a storage bag.
Avoid direct sunlight and heat
Your dining table may discolor, distort, or crack when exposed to direct sunlight or heat. Avoid setting up your dining table in bright sunlight or close to a heat source, like a fireplace or a heater. You can use window coverings or drapes to block out UV rays and safeguard the surface of your dining table if it is in direct sunlight.
Conclusion
Your dining table's upkeep and cleaning don't have to be a hassle. You can make sure that your dining table remains in good shape for many years by adhering to these easy suggestions. Keep in mind to pick the proper materials, use coasters and placemats, wipe up spills right away, frequently dust and clean, polish, and wax, store tablecloths correctly, and stay out of the sun and heat. By following these instructions, you may prolong the life of your dining table and make it attractive and useful for many years.  
Along with the aforementioned advice, it's crucial to follow any particular maintenance guidelines that came with your dining table. Be sure to carefully read the manufacturer's instructions, as some materials demand special handlings, such as refraining from using specific cleansers or polishes.
To avoid any unnecessary damage, it's crucial to utilize your dining table sensibly. Don't use the surface as a work surface or a place to keep stuff, and stay away from placing heavy or sharp objects on it. You can make sure that your dining table continues to be a stunning and useful focal point of your dining room for many years to come by taking good care of it.
In conclusion, taking care of your dining table to ensure its longevity is a crucial part of having one. You can make sure that your dining table lasts for many years by using the ideal materials, using coasters and placemats, wiping spills straight away, routinely dusting and cleaning, polishing and waxing, storing tablecloths appropriately, and avoiding direct sunlight and heat. You can safeguard your investment and make a lovely and welcoming eating area for you and your loved ones by adhering to these straightforward suggestions.